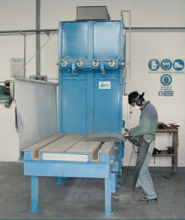 Duster Series
Are you tired of working in the dust?
We have the solution for you!
The Duster Series has a suction bench that guarantees constant suction over time and dry filtration of 99.99% of each type of powder.
It's ideal for grinding, cutting and polishing marble, stone, granite and resin.
The industrial suction bench ensures the suction of all the powders produced during the most demanding processes.
There is no maintenance to be carried out for many years, it is sufficient to empty the dust collection drawer periodically.
The standard models guarantee capacities up to 11,000 mc/h. They can also be made to measure benches with customized and accessorized powers depending on the application..
Download the data sheet above for more details, power and dimensions.