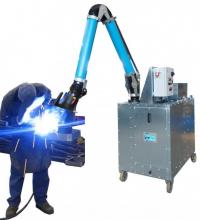 POLSEC-O PULS JET series
Robust, easy to handle, quiet and space-saving
The POLSEC-O Pulse Jet, designed for the filtration of welding fumes in general, are applied in all industrial sectors in which processing produces dust residues that are harmful to health or the environment.
The polyester or nano-fibre cartridges are automatically cleaned with counter-current compressed air and the filtered powders are collected in a removable container.
They comply with all current regulations, continuous and constant operation over time with minimum maintenance costs.
The self-supporting arm facilitates the placement of the hood on the most favorable point for pollutant collection.
Areas of use:
- welding and brazing suction
- manual plasma cutting suction
- grinding and sanding suction
- industrial mechanical filtration
- chemical industry filtration
- pharmaceutical
- food
For installations outside the company:
- POLSEC-V Pulse Jet series PULSE JET (wheeled filters)
For centralized systems:
- FCO Pulse Jet series (filters for centralised systems)