Active carbon filters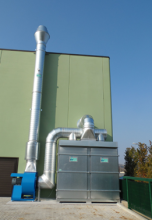 FCA Series
Design and implementation without compromise!
This is our secret.
Application sectors:
The activated carbon filters with external regeneration of the FCA series are used for the filtration of air coming from painting, resin coating, impregnation, coating, adhesion, lamination, pad printing, lithography and printing with products similar to solvents.


Construction:
They can be made of galvanized, painted and stainless steel sheet. They consist of a supporting structure with sections containing activated carbon with small cylinders.
The dimensions and the structure vary according to the application, the air flow rate and the concentration of VOCs (VOCs) to be treated.
---
Altre Tipologie di Industrial Collectors