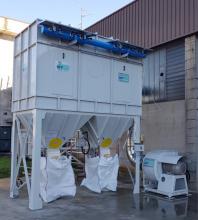 Pulse Jet FC - FCC series
Pulse Jet FCO series
The customized solution for fumes and dust filtration
For over 20 years, cartridge filters have been increasingly used in the field of industrial filtration of dust and fumes, because they have high filtration efficiency for fine dust, as well as excellent durability.
During the designing face of the filter, related to the type of pollutant, it is important: the choice of the correct filtration speed; the choice of type, size and pitch of the cartridges; the choice of the management parameters of the pulse jet cleaning system (counter-current compressed air), to save compressed air and reduce cartridge wear.
The cartridges limit conditions are:
- that the air temperature does not exceed 80 °C;
- that the powders are dry and free of oily residues;
- that the powders are not too stringy;
- that the Pulse Jet system compressed air is dried and de-oiled.
These filters are divided into two large families:
Pulse Jet FC - FCC Series (vertical cartridges)
Pulse Jet FCO Series (horizontal cartridges)
The choice of the model and the sizing of the filter must be approved by our technical department, which has at its disposal a baggage of experience of over 50 years.
Pulse Jet FC - FCC Series:
mounting vertically positioned Φ145 mm cartridges, suitable for filtration of high concentrations of dust; they can have one or more calm chambers (FC and FCC), where the powders lose speed and are evenly distributed to pass through the cartridges without damaging them; The filtered dust remains trapped outside the cartridges, and then falls into the hopper and collection compartments when pulse jet cleaning occurs. The filtered air is then expelled into the atmosphere via the fan or - if permitted by regulations - re-emitted into the environment through safety filters.
Pulse Jet FCO Series:
mounting cartridges diameter Φ 327 mm x 660 mm positioned horizontally; these filters exploit the «down-flow» effect (flow from top to bottom) and are more suitable for filtering fumes with dust at medium-low concentrations; the cartridges are extracted laterally, without entering the filter, quickly and easily; for dangerous dust is available the bag-in / bag-out kit to avoid any contact.
Areas of use:
- fibre / CO2 laser cutting suction
- plasma / Oxyfuel cutting suction
- metallization /gouging suction
- welding fumes suction
- suction for powder coating plants
- foundry dust suction
- suction and filtration of explosive dust (ATEX)
- rubber dust suction
- suction of powders from pharmaceutical processing
- paper and cardboard dust suction
- dust and wood shavings suction
- metal shavings suction
- suction from working brakes and clutches
Are you looking for a compact cartridge filter for smaller applications? POLSEC-O Pulse JET Series
YOU MAY ALSO BE INTERESTED IN: