Replacement filters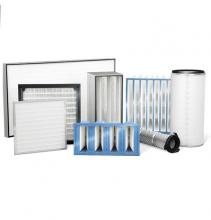 In addition to designing and manufacturing the filters, we supply spare parts for already existing systems (even if not made by us).
Thanks to the enormous use of these filters we are able to apply low prices for products of the best quality.
Below is a list of the products we process.
For support on choosing the most suitable product contact us.
Pocket Filter

Composition: Galvanized steel frame and medium fiberglass frame
Class EN 779: 2002: F9
Recommended final load loss: 250 Pa
Temperature: 70 ° C in continuous service
Pockets: 10
Area: 6.5 square meters

Standard sizes ready for delivery.
Other sizes available on request.

Box Filter

Class EN 779: 2002: F9
Average efficiency: 96%
Initial load loss: 175 Pa
Recommended final load loss: 650 Pa

Standard sizes ready for delivery.
Other sizes available on request.

Rigid Pocket Filter

Class EN 779: 2002: F9
Average efficiency:> 95%
Initial load loss: 140 Pa
Recommended final load loss: 450 Pa
Operating temperature: 70 ° C

Standard sizes ready for delivery.
Other sizes available on request.

Absolute filter EPA / HEPA 14 Series

Class EN 779: 2002: H14
Average efficiency:> 99.995%
Initial load loss: 320 Pa
Recommended final load loss: 450 Pa
Operating temperature: 70 ° C

Standard sizes ready for delivery.
Other sizes available on request.

Flat CARBON active filter cell

The filters consist of a container made of galvanized sheet or stainless steel profiles and expanded or micro-perforated mesh inside which the required activated carbon is housed.

Standard sizes ready for delivery.
Other sizes available on request.

Bulk activated carbon
(in 25 kg bags or 600 kg big bags)
POTREBBERO INTERESSARTI ANCHE:
---
Altre Tipologie di Accessories