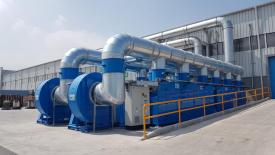 Jolly V-OIL series
Blue Sky series
They solve every problem of fumes, vapors and oily mists on single or centralized plants.
The Blue Sky are the most advantageous technical and economic solution, ideal for the filtration of fumes, vapours and oil mists. They exploit the natural process of coalescence, which facilitates the aggregation of small particles in droplets, which by weight and size fall into the collection tank; guarantee constant and efficient filtration, for long periods without maintenance interventions. Blue Sky filters can contain multiple filter sections and of different kinds, to adapt to the application of use, the type of pollutant and the hours of daily use. The Blue Sky allow the most varied constructive configurations to adapt to the available spaces.
Areas of use:
-machining center.
-bolts and screws
-chip removal (lathes, milling machines, etc.).
-hot and cold forming of steel, aluminum, brass, bronze etc.
-fine blanking
-grinding - honing - lapping
-quenching (induction, ovens, etc.).
-electro-erosion.
-industrial washes.
-rubber molding and post vulcanization.
-spot welding.
-cooking ovens.
Technical features:
the results obtained are always excellent, in terms of:
- quality of filtered air
- silent and safe operation
- duration of its filters (which, if used correctly, last several years without the need for maintenance).
Our technical department is at your disposal.
Are you looking for a compact disposable filter for smaller applications? Watch the Serie Jolly V series
YOU MAY ALSO BE INTERESTED IN: