Hydrophilic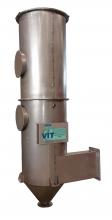 DAUV Series
High efficiency water filters
The DAUV Series of wet dust collectors allows the removal of dust by exploiting the cyclonic effect and the turbulence produced by the fins built to increase the contact surface between the dust / gas and the water.
It can be built with one or more washing zones with demister (droplet separator).
Since there are no nozzles and moving parts, maintenance is minimal.
As an option, they can be supplied complete with a tank for collecting washing water, a recirculation pump and a sludge drainage system.
Contact us to find the model that best suits your needs.
POTREBBERO INTERESSARTI ANCHE:
---
Altre Tipologie di Industrial Collectors