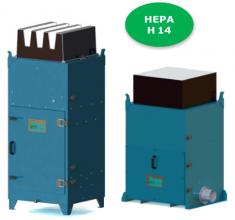 Jolly V-OIL series
EFFECTIVENESS AND QUALITY, NOT ONLY AESTHETICS AND COMPACTNESS
The Jolly Series has been designed for the abatement of fumes, vapors and oily mists.
The natural process of coalescence, which takes place inside the JOLLY V-OIL, facilitates the aggregation of very small particles of steam and oil in drops, which by size and weight fall into the collection tank.
They are not bulky, and are able to contain interchangeable cells with a large filtering surface.
They guarantee a constant air filtration of 99.99% efficiency, without maintenance interventions for at least one year.
The many accessories available listed in the technical data sheet make assembly and use quick and easy.
The JOLLY V COMPACT model has been designed to be placed above the suction point of the operating machine.
-Areas of use:
-machining centers.
-chip removal (lathes, milling machines, etc.).
-hot and cold forming of steel, aluminum, brass, bronze etc.
-grinding - honingg - lapping.
-quenching (induction, ovens, etc.).
-electro-erosion.
-industrial washes.
-rubber molding and post vulcanization.
-spot welding.
-cooking ovens.
Coalescence filters for air and oil mist:
The processes that use refrigerants produce fumes that are almost always harmful to health both by skin contact and by inhalation. The Regulations in force for the protection of staff health are very restrictive and require you to extract and filter these fumes with the best technologies available.
Jolly V-Oil coalescing filters, or Blue Sky for centralized systems comply with current regulations (DC.CF.01 - BAT Best Available Techniques). Unlike electrostatic filters, whose efficiency cannot be controlled except by scheduling close maintenance interventions, in coalescence filters each internal section is controlled by a differential pressure switch which indicates the level of clogging and allows to program maintenance with ample safety margin. We can say that coalescence filters are the best and safest solution to have a healthier working environment and a bluer sky.
The wheel-mounted Jolly V-Oil move quickly from one location to another and the mobile arm allows you to quickly position the hood in the most favorable point for capturing fumes.
For the filtration of fumes and vapours, with VOC volatile organic substances, the Jolly V-Oil can be equipped with an additional filtering section containing activated carbon in an appropriate quantity for the application.
Download the data sheet above for more details, powers and dimensions.
Are you looking for a larger filter for centralized applications? Watch the Blue Sky series
YOU MAY ALSO BE INTERESTED IN: