Cyclone dust collector filters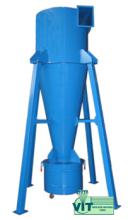 SPC Series
The cyclone made to measure for you!
Application sectors:
SPC Series industrial cyclones are used to break down woodworking dusts or as a pre-separator to be inserted before bag filters or cartridges in the presence of significant amounts of dust.
The SPC Series of cyclone dust collectors are used to separate and filter dust with a particle size greater than 30 microns.
Construction:
They can be made of galvanized sheet metal, very thick painted sheet metal, stainless steel and wear-resistant materials.

Download the data sheet above for more details, power and dimensions.
POTREBBERO INTERESSARTI ANCHE:
---
Altre Tipologie di Industrial Collectors