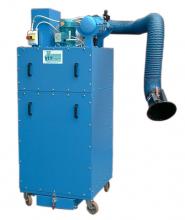 Polsec "Pulse Jet" Series
The compact solution for every dust and smoke problem!
The Polsec Series of mobile filters is designed for the suction and filtration of:
- welding and grinding fumes
- plasma cutting fumes
- grinding dusts
- dry powders
They have capacities between 500 and 3,000 mc / h in addition to the possibility of customized solutions.
They are sturdy and easy to handle and also silent.
All the machines in the series are equipped with a Pulse Jet cleaning system. The cartridges can be in polyester or mixed polyester-cellulose depending on the use.
Download the data sheet above for more details, power and dimensions.

Are you looking for a larger filter for centralized applications? Take a look to the FC Pulse JET Series