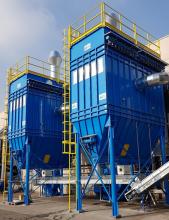 FM Pulse Jet filters
Tailor-made solutions for the filtration of dust and fumes
FM pulse jet filters, unlike cartridges and thanks to the wide availability of increasingly technological bags, can work at high temperatures and are widely used in the industrial filtration of fumes and dust, with high humidity.
The choice of the model, size and filtering medium of the bag depends on the type of pollutant treated, the concentrations, the particle size, the working temperature and the degree of filtration to be obtained.
The counter-current compressed air cleaning system is managed by an electronic control unit with economizer and display for viewing the degree of filters clogging.
Construction:
suitably sized, with thick sheets (galvanized or painted), they are equipped with convenient doors for the bags abstraction, which almost always, having the snap ring attachment, can be safely extracted from the roof of the filter. For dust or classified environments, various ATEX solutions are available.


Tell us your problem and we will propose the most suitable solution to solve it
YOU MAY ALSO BE INTERESTED IN: