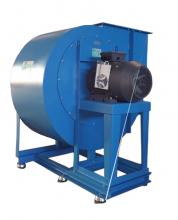 Application sectors:
The centrifugal fan in the chair version is particularly suitable for the suction and ventilation of clean air, but depending on the impeller used, it can also be used in the presence of dusty air.
Construction:
It is made of electro-welded and painted sheet metal, or on request in stainless steel and anti-wear material. It can also be realized by aspiration of air and fumes at high temperatures (up to 300 ° C).