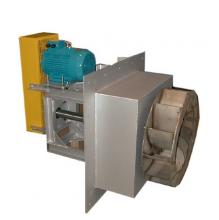 Application sectors:
They are normally used for air circulation in furnaces to avoid heat stratification.
Construction:
They can be realized with a directly coupled impeller (for T <90 ° C) to the electric motor (also with extended shaft - for T <300 ° C), or to transmission (For T <800 ° C).
Made of electro-welded and painted sheet metal of different thicknesses, in stainless steel or other steels for high temperatures.
Contact us for all the information on capacities, pressures and sizes.