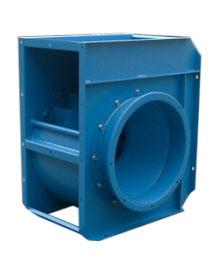 Area of use:
The fans in cubic execution are very versatile and, depending on the application, have positive or negative blade impellers suitable for transporting clean air, fumes, dust, chips, etc.
Features:
The impeller can be easily removed from the motor side to allow any type of maintenance without intervening on the intake and delivery manifolds.
Construction:
The centrifugal fans in cubic execution have impellers with a maximum diameter of 820 mm. For larger sizes, construction in Execution 4 is required - With chair or in Transmission version.
They can be made of sturdy, fully welded steel sheet, with anticorrosive or stainless steel coatings.

Download the individual data sheets directly from the arrows by positioning the cursor over the fans below.