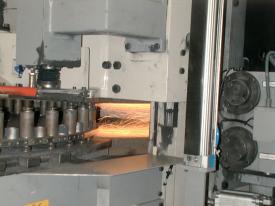 Grinding powders
The FC Pulse Jet Series filters have been designed to meet the demands of the suction and filtering mills of powders produced by soft grinding and wire processing.
The experience gained by NOVA VIT in over 20 years of applications, during which it has installed over 500 filters in more than 100 springs in Italy and abroad, makes it possible to propose more technologically advanced solutions, guaranteeing the total abatement of the dust, long cartridge life and minimal maintenance.
Energy saving:
When local regulations allow it, it is possible to recover the filtered air by inserting high-efficiency safety filters and filtration control kits, achieving considerable savings on company heating.
Filtration efficiency greater than 99.9%:
The use of the best cartridges on the market, the continuous search for innovative solutions and the experience gained in the management of the filters, allow us to guarantee high performance and long durability of the cartridges with minimum maintenance (cartridge life between 10,000 and 20,000 hours).
Accessories:
Depending on the needs, the filters can be constructed with:
- dust discharge in the drawer with a quick-release system
- hopper and rotary valve for unloading in big bags (or other containers of your choice)
You may be interested in filters:
- Cartridge dust collector filters (FC Pulse Jet Series)
- Trolleys and wall units for dust (Polsec Series)

Quenching fumes
NOVA VIT designs and builds coalescence filters for single or centralized systems, customized for each customer's needs and suitable for suction and filtration of dust, fumes and oil mists for each industrial application.
You may be interested in filters:
- Coalescing filters (Blue Sky series)
- Mobile and wall units for fumes and oil (Jolly V Series)
Download the technical data sheet above for more details on soft processing products.