Industrial painting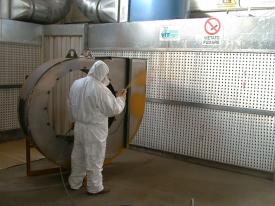 The Top Dry Series suction and filtering walls are designed for dry filtration of paint overspray with or without solvents.
They are positioned against the wall as all the filtering sections (including activated carbon) can be removed from the suction side. The numerous and wide filtering sections are the minimum reduction of pollutants with minimum maintenance.
For the industrial painting of bulky and heavy items, the best solution is with floor suction; in this case, the filter assembly and the aspirator are positioned externally.
Are you looking for replacement filters for a paint booth? Click here.
---
Altre Tipologie di Type of processing